Size
Length: 60cm|Embellishment: 4cm
Designer BIO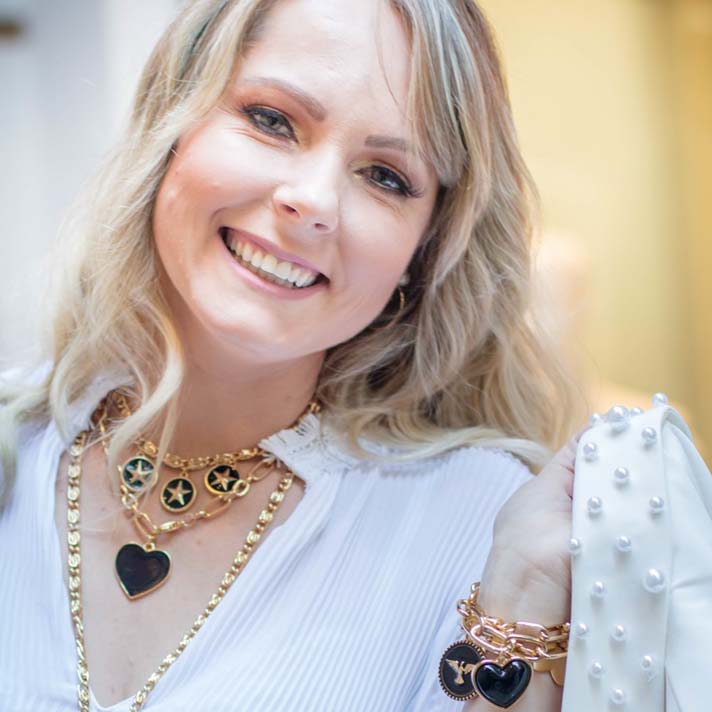 EMILIA KIPPER
Wielkie perły, grube łańcuchy, duże zawieszki. Wszystko XXL. Bo czasem masz ochotę się pokazać. To właśnie projekty Emilii Kipper z Brazylii. Marka powstała w 2012 roku i nie przestaje tryumfować. W brazylijskim warsztacie powstaje biżuteria artystyczna, która jednocześnie podąża za światowymi trendami.
Przesadnej skromności projektantka mówi: nie! Emilia Kipper tworzy dla kobiet, które nie boją się błyszczeć. Pragnie inspirować, przynosić pewność siebie, poprawiać nastrój. Biżuteria luksusowa z Brazylii jest wyjątkowo kobieca, dzięki czemu idealnie nadaje się do łączenia z garniturem czy klasyczną, "męską" koszulą. Namawiam do pokazywania swojej kobiecości w pracy. Duża bransoletka w formie łańcucha czy naszyjnik z perłami to idealny sposób na ożywienie swojego looku i nadanie mu kobiecego charakteru, nie rezygnując z profesjonalizmu.
Free delivery and returns

DHL - international delivery
International delivery. Prices start from 14 EUR.
Read more...

DHL Returns are free during 28 days.
Fill out the form and return your order free of charge.
Read more…
Payment options
PayPal
After placing an order, you will be redirected to PayPal.
Credit/debit card
After placing an order, you will be redirected to PayU where you can pay by card.